With its cutting-edge design, Zenith is Wilsonart's range of on-trend solid laminate worktops -available in a multitude of decors and finishes – it is ideal for creating innovative kitchen designs.
Zenith's ultra-thin appearance, along with its enhanced worktop performance, ensure it will stand the test of time.
The benefits of Zenith solid laminate worktops:
At only 12.5mm thin, Zenith creates an unrivalled design like no other
The solid core offers complete flexibility to incorporate curves and other features
It's 100% waterproof allowing undermount sink installation and drainer grooves
The sleek double-sided surface makes it perfect for cabinet framing and co-ordinated shelving
Installation is completed onsite with standard tooling – reducing fitting complexity and time
Zenith worksurfaces benefit from built in performance properties, making them resistant to heat, water, wear and impact
Realistic and sensual surface textures augment the stunning decors offered
A cost-effective and practical alternative to natural materials
Splashbacks and upstands are available for a high-quality overall finish
With styles and designs ranging from statement options like Alaska providing a monochrome look and Pyla the alternative woodgrain through to more understated designs like Magma, the Zenith collection ticks all the boxes to give kitchens a premium look.
Zenith Inspiration
So, how you can you use a Zenith compact laminate worktop throughout your kitchen designs for a striking impact and on-trend interior design styles that will transform kitchen spaces?
Sleek & Contemporary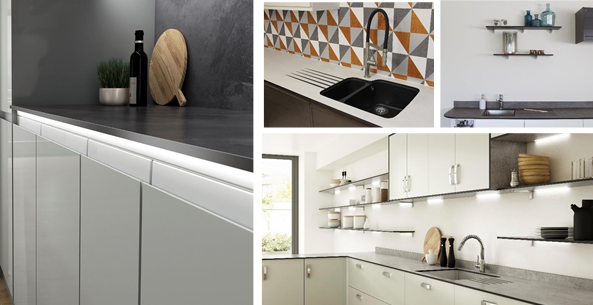 The slim design with its solid black core lends itself naturally to modern styles. Decors including Lave, Magma, Caldeira and Alaska complement contemporary kitchen designs spectacularly, providing sleek and fashionable colours and patterns.
With their monochrome tones, decors such as these pair particularly well with more minimalist designs so they're a perfect fit for contemporary spaces. Zenith can also be used with modern features such as induction hobs and undermount sinks with built-in drainer grooves thanks to it's 100% waterproof solid core.
The core also means that curves can be created simply onsite which adds to an on-trend finish. To boost this modern look-and-feel splashbacks and upstands are also available for the Zenith range as a contemporary alternative to tiles, helping to extend the stylish decors throughout the kitchen and bring it all together.
Consider using these darker designs as a deep accent colour contrasted against bright, light and plain cupboards. For an even more sleek and modern look, opt for streamlined door frontals without handles for a truly state-of-the-art kitchen design.
Classic Country

If you'd prefer to go for something a little less contemporary, then rest assured Zenith solid laminate decors are available to suit too.
Simply choose more traditional style decors to create that classic country feel. Pyla, Topia, Colorado and Rouille are great choices to match this timeless kitchen design. These woodgrain designs are perfect for a chic kitchen environment.
Since Zenith can be fitted with a wide range of hobs and sinks, you can incorporate classic sink styles such as Belfast and Butler sinks for that retro feel. Of course, for that true country style, use timber style surfaces and accessories such as framed and shaker doors throughout the kitchen cabinets. Also, be sure to think about the addition of stand-alone range cookers like the classic Aga for a really authentic design that has the wow factor.
Urban Industrial

If you're feeling a little more adventurous you may have set your sites on an open-plan, industrial kitchen. Try combining woods with natural, exposed elements such as brick walls or stone floors and mixed metals (think copper, brass and silver) for a really urban feel - be imaginative with the different materials and textures available.
Although there's a wide range of Zenith decors Woodstone and Calderia complement innovative industrial designs particularly well. Backsplashes are a great alternative to tiles here too, expanding the industrial warehouse styles across the walls of the kitchen space. You may even want to consider cabinet framing or coordinating shelving for a consistent look-and-feel.
To add a more unique spin on the industrial style, get creative with striking accent colours and pops of brighter shades using accessories to contrast with the concrete surfaces and timber frontals – or try adding in characterful metal handles too.
If you are looking to learn more about the Zenith range and how it suits different interior styles, please get in touch.