Over the last few months Wilsonart, in conjunction with Trend Monitor, have been carrying out consumer research on the performance of kitchen worktops throughout the UK.
The aim of the research was to assess the performance of kitchen worktops in UK homes. In particular, the survey aimed to understand three key areas. These were:
Consumer needs and expectations with regards to the performance levels of worktops
Worktop usage within the kitchen
Price versus performance ratio for worktops
The research itself was undertaken via an online consumer survey with a representative sample of UK homeowners.
The results themselves proved interesting and highlighted the wide-range of styles and functions of kitchen worktops in a standard UK home. Data shows that half of respondents have a laminate worktop in their kitchen whereas a quarter had a solid surface worktop and just over 10% had a compact laminate worktop.
Kitchen Worktops Key Findings:
50% of respondents had Laminate worktops in their kitchen.
25% had a Solid Surface worktop and the remainder between compact, solid wood and granite.
53% of respondents inherited their worktops, 47% had chosen their worktops
37% of respondents have had their worktops for 8 years plus, including 15% of Laminate owners confirming they had had their worktops for over 10 years.
36% of Laminate owners have had the same worktop for over 4 years.
What's more, the survey also looked at worktop product factors and performance attributes and results concluded:
Colour, design and finish are the top product factors when choosing all new worktops.
Ease of installation is the least considered product factor when making purchase choices.
Heat resistance is the top performance attribute for all types of worktop.
Image: Most Important Factors In Choice Of Worktop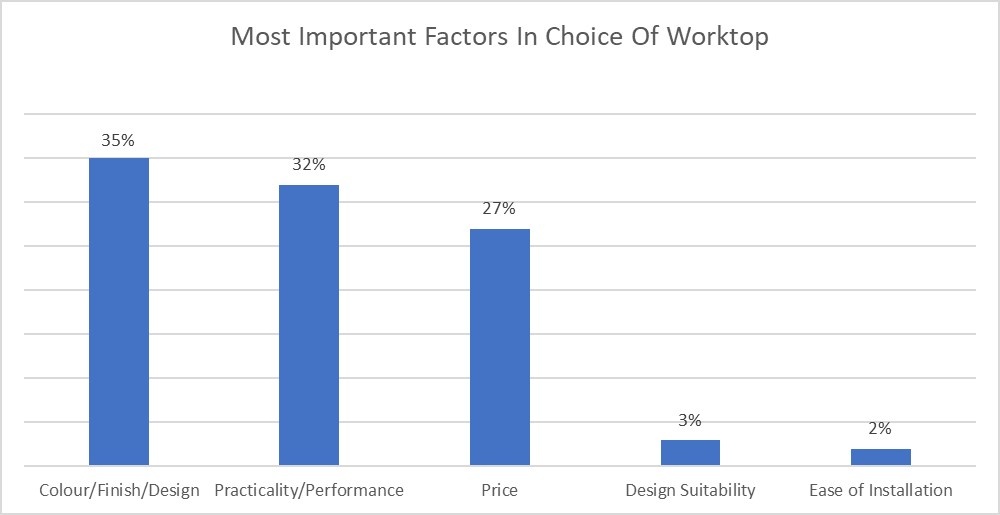 Image: Most Important Performance Attributes In Choice Of Worktop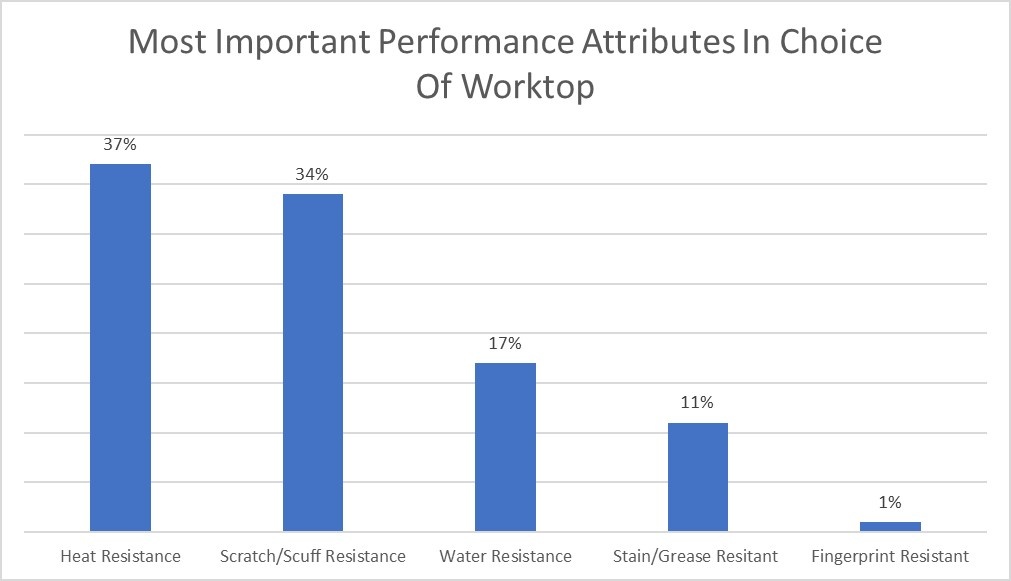 Speaking of the results, Ruby Larvin, Wilsonart's marketing and communications manager, said: "The consumer research into the performance of the kitchen worktops in the UK is very insightful. It is no surprise that the design of a kitchen worktop is the main factor in selecting a worktop and you've seen with Wilsonart's array of innovative Zenith worktops that we are constantly bringing new designs and decors to market to keep up with consumer demand. We will be releasing more findings from our consumer research in the coming weeks, so stay tuned to our blog for the very latest information."
Sign up to our newsletter below and stay alerted to the latest goings-on at Wilsonart.
Methodology of research:
The research was undertaken via an online consumer survey with a representative sample of UK homeowners. The survey consisted of 34 multi-choice questions, plus qualifying and status questions. The survey was conducted online during April 2018 and targeted a response rate of 1000+ respondents. Trend-Monitor partnered with Panelbase to gain access to a suitable online respondent panel. Panelbase supports and strictly adheres to the standards and guidelines set out by ESOMAR: www.esomar.org. Panelbase are also MRS company partners www.mrs.org.uk.