Designing your kitchen can be an arduous task. Aside from choosing the worktops, colour scheme and materials, you also must consider how you will decorate your kitchen walls.
Whether it is tiles, splashbacks, paint, wallpaper or even the exposure of natural walls there are a plethora of options which can help give your kitchen a premium look. Traditionally, tiles have always been the choice of many – with the variety of colours, designs and affordability being a key factor.
Wallpaper and paint are other simple options, and while painting and covering your wall in paper can be cost effective, both can erode quickly overtime and of course both options are not easy to maintain or clean in a busy kitchen environment.
Splashbacks on the other hand can very quickly transform the style of any kitchen. Not only do they come in an array of styles and materials (glass, acrylic, aluminium and decorative MDF), but they have many benefits over and above other wall covering options - not only aesthetically but also in the day to day maintenance of a kitchen.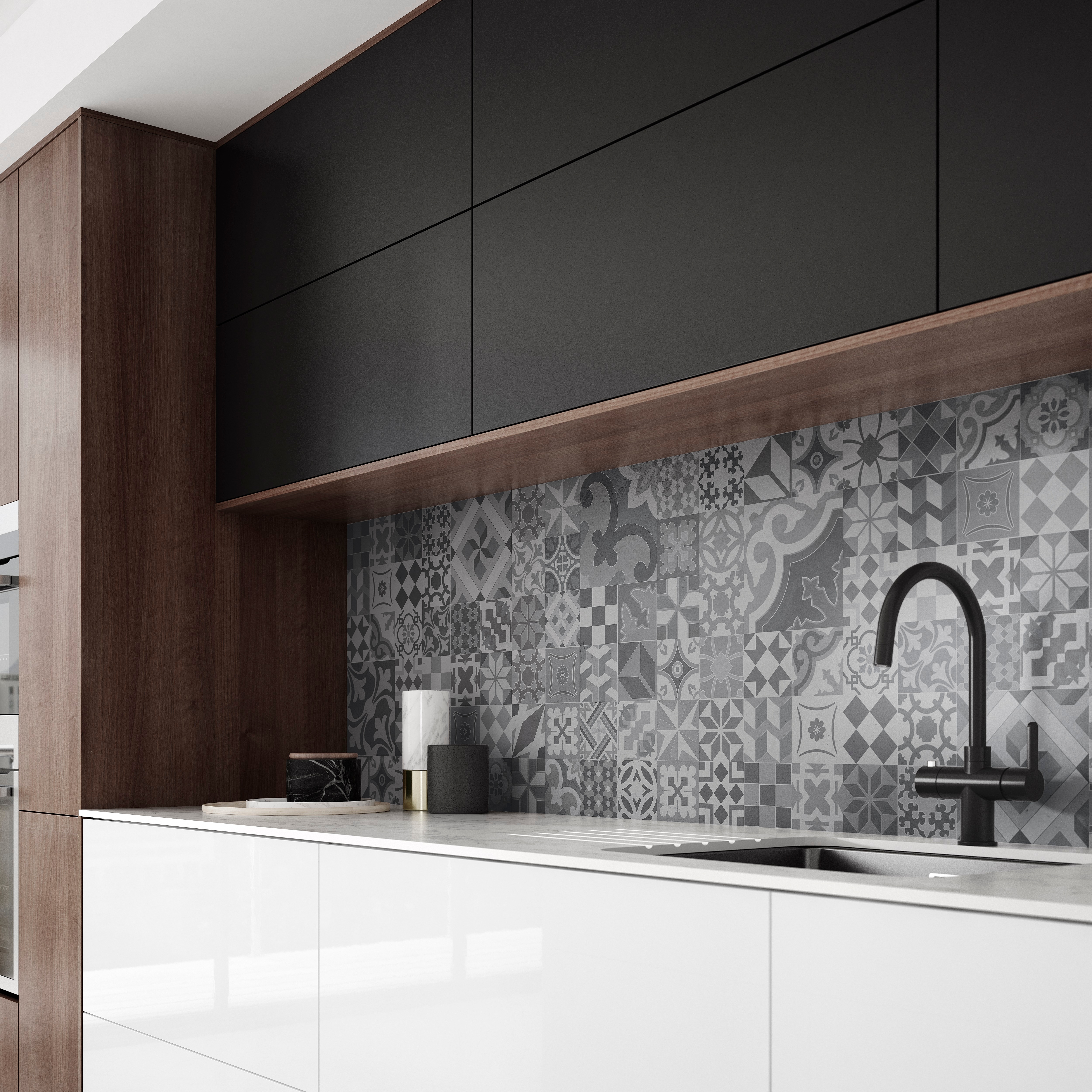 Below we have outlined the benefits of splashbacks and how they can be easily integrated into your kitchen design, whether used for full wall coverings or a selected space to create a kitchen feature.
Benefits include:
Huge range of styles and design possibilities: Splashbacks are available in a multitude of designs. You can choose to match the worksurface and continue the worktop design up the wall to create a luxurious, seamless finish, as illustrated by the Industrial timber decor (below) you can see how the splashback perfectly integrates with the worktop design. Alternatively, applying splashbacks in contrasting, characterful, cutting edge designs can add a real 'wow' factor to the kitchen. From bright pops of colour to tile and wallpaper inspired design replications, there are a multitude of options to choose from. This is the perfect solution to inject current trends into the kitchen design.
Simple installation: Splashbacks are straight forward to install and approximately 6X times quicker to install than tiles. A simple panel adhesive is needed for application to the wall and a sealant to finish the edges. For such little effort, you can create a wow factor in the kitchen – giving a premium finish to the kitchen design. What's more, splashbacks can be removed relatively easily compared to tiles meaning you can upgrade the look of your kitchen without spending large amounts of money.
Cost effective: No secondary tradesperson (tiler) is required to install splashbacks, they can be installed on site by the same tradesperson fitting the kitchen, overall reducing installation time and costs. In addition this minimises the downtime for the kitchen meaning you can spend more time enjoying the newly refurbed space.
Easy to clean and maintain: Splashbacks are very easy to clean. Unlike tiles the huge benefit is there is no nasty grout to deal with during installation and thereafter, reducing the time needed to keep the wall area clean and limit the chances of mould and mildew. The surface can be easily wiped clean in the same way as your worktop and there is no need to purchase additional cleaning products.
Adds value to your kitchen: A splashback will help bring character to your kitchen and transform the overall look, adding value to your kitchen greatly.
We hope this blog will inspire you to think of the design possibilities and long term benefits of splashbacks applications.
Splashbacks are available throughout our range of kitchen worktop collections including laminate, Zenith and Earthstone. Installation instructions are available on our website to download.
To learn more about how you can apply a splashback to your kitchen, simply get in touch with our team today.