After weeks of fierce competition, we can finally announce the lucky winners of our Zenith Design Competition.Kitchen designers throughout the UK have been sending in Zenith kitchen designs and installations in their droves. Picking the top three wasn't an easy task, however, after some careful deliberation, we are delighted to announce the following:
1st Place:
Paul Sequenza: Wickes, Kent
Zenith Décor: Caldeira
Prize: £300 High Street Voucher
Paul has used the Zenith Calderia decor to its full potential, using it for multiple applications across the kitchen space including the worktops, breakfast bar, splashbacks, shelves, end panels and even windowsills. Curves feature on the end of the breakfast bar showing further design capabilities of the material and an under-mount sink has been installed with drainer grooves. Given the benefits Zenith brings – 100% waterproof, ultra-thin surface and double-sided – Paul has really shown the versatility of the material and how creative you can get with kitchen designs. Caldeira looks fantastic with the super modern blue coloured cabinets and creates a real wow factor.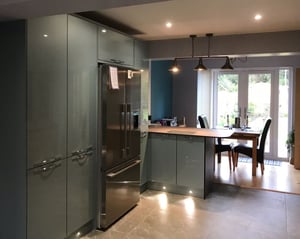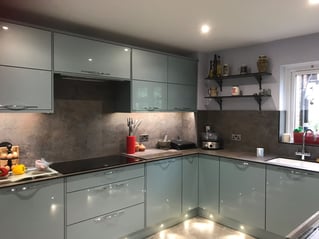 2nd Place:
Anthony Storey: Wickes, Milton Keynes
Zenith Décor: Caldeira
Prize: £150 High Street Voucher
Anthony has created a stunning open plan kitchen space designed around a central statement island. Although Zenith is not used in many applications across this kitchen design, it has been used perfectly to clad the island unit, featured on the surface, the sides and back panels, an under-mount sink with drainer grooves has also been incorporated. The Caldeira décor, combined with the super matt neutral handless door frontal, creates a highly contemporary and luxurious kitchen design.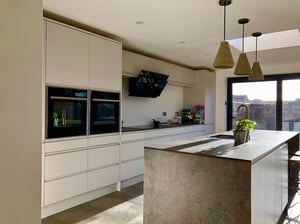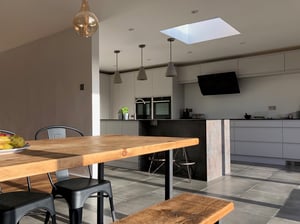 3rd Place:
James Katra: Benchmarx Katra, Norwich
Zenith Décor: Lave
Prize: £50 High Street Voucher
Using the Zenith décor Lave, James has created a modern kitchen design. The use of matching upstands offset against the white walls, along with the black surface against the light grey doors, creates a clean, minimalistic atmosphere. James has created an informal breakfast bar seating area with the use of a 300mm worktop overhang and, not only has he used Zenith as a panel to finish behind the induction hob, but James has also featured it as coordinated windowsills.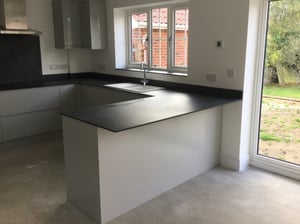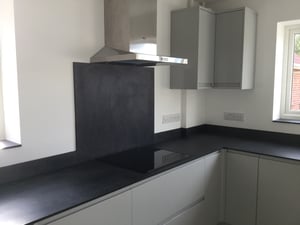 You can see between the three winning kitchen designs just how versatile Zenith kitchen worksurfaces really are. They allow you to create a multitude of kitchen styles ranging from the simple and understated, right through to cutting edge statement designs.
We would like to congratulate our three winners and thank all entrants for sending in their kitchen creations. It's great for us to see the final installations and we urge designers to continue pushing the boundaries of kitchen design with Zenith worktops.
To stay up-to-date with the latest Zenith designs, subscribe to our monthly newsletter by completing the form below.